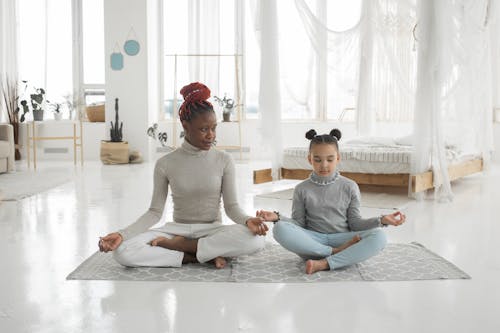 Empower your child to de-stress through mindfulness! Help your kiddos benefit from the practice of paying attention on-purpose, to the present, without judgment. While we're trying to manage our own stress, our kiddos are still learning a lot about themselves and how best to do that. Facilitating mindfulness exercises for them, for just a few minutes, can even be handled like a daily game! What's also great is that most anyone can learn and, techniques are easily modifiable to ability and comfort level. It's the general idea of an exercise and the exploring of its benefits that counts. There are even some exercises that can be done with just the imagination – no physical component!
Mindfulness & Empowerment
In addition to intentionally being mentally present in the moment, mindfulness ideally includes perceiving from a calm place of kindness and patience, as we examine what is happening with us internally and externally, in the right-now. The goal is to empower your kiddo, (and maybe, yourself too, hint-hint), to create that calm, kind, patient place inside, instead of feeling stuck in states of distraction, restlessness, and agitation.
Cultivating Mindfulness: 4 General Skills
NOTICE your Breathing
FOCUS your Attention
HEIGHTEN your Awareness
EXPAND your Patience
Who's your Audience? Child-Friendly Methods
To raise your game, you might consider searching out some mindfulness-for-kids activity sets, cards, or other playful tools, for instance! These allow you to be efficient in your facilitation, Mama, as we are already short on time – always! – right? But also, implementing colorful, interesting, kid-friendly "materials" will be more captivating and engaging for BOTH of you! Empower your child to de-stress through mindfulness!
5 Categories + Missions of Mindfulness
STARTING THE DAY – "Stay Grounded", means we can begin the day with feelings of strength, focus, and confidence.
2. FINDING CALM – "Ride Your Waves", means we can learn how to manage our tempestuous emotions.
3. NARROWING FOCUS – "Strengthen Your Mind", means we can raise our brains' alertness, cultivate concentration, and heighten our sensory awareness.
4. OPENING THE HEART – "Accept Life with Kindness", means we can practice fostering feelings of self-acceptance and establishing a healthy, emotional connection to the outside world.
5. RESTING & RELAXING – "Unwind Your Tangles", means we can learn to reflect in such a way that it allows us to ease our busy minds.
Empower your child to de-stress through mindfulness! You can check out the resources below; do your research; and, shop for the most age-appropriate, personality-style of materials that suit the child best, who you have in mind. Focus on a Category, or Mission, as you observe how to prioritize your child's needs. Guidelines are flexible; there are no hard and fast rules here.
*(MEDICAL DISCLAIMER: "Mindfulness practice is a resource, not a substitute for medical treatment. If you have concerns, please consult your healthcare provider.")
RESOURCE: Stewart, Whitney. (2017). Mindful Kids: 50 Mindfulness Activities for Kindness, Focus, and Calm. Illustrated by Mina Braun. Cambridge, MA; Barefoot Books. www.barefootbooks.com
Whitney Stewart is an author of children's books, as well as a mindfulness and meditation coach to children and adults. ( www.whitneystewart.com ). Mina Braun, of Berlin Germany, is an illustrator and printmaker. ( www.minabraun.com ). Alexandra Strick and Beth Cox, of "Inclusive Minds" (UK); ( www.inclusiveminds.com ). Stefanie Paige Wieder, M. S. Ed., Child Development Specialist. ( www.stefwieder.com ).